Polyphony Conducted by Dennis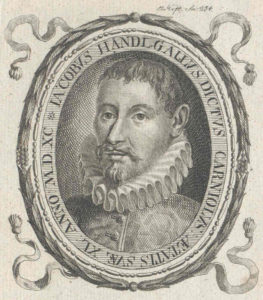 The above portrait of Jacobus Gallus  is from an original woodcut made in 1590.
God Ascends His Throne (Ascendit Deus) by Jacobus Gallus (Jacob Handl-July 3, 1550 – July 18,1591) a Cistercian monk, from his Opus Musicum of 1577.
This stunning motet is for five equal voices (TTTBB) and is a joy to conduct.  It uses the original offertory text for the Ascension Liturgy (Ps 47:5).  Following this short (1:49) but spectacular motet, we usually sing appropriate appropriate English verses to a solemn Latin psalm tone and repeat the motet.
"God ascends his throne to joyful shouts of victory, alleluia. The Lord ascends to mighty trumpets, alleluia. Ps 47:5.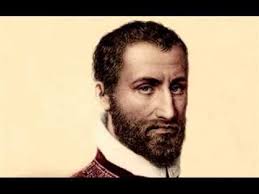 Christ our Lord Ascends to Heaven (Ascendens Christus) by Giovanni Pierluigi da Palestrina (1525-February 2, 1594).
In Rome Palestrina was appointed Music Director by Pope Julius III. Palestrina lost his first wife and family in the plague. He remarried a wealthy widow which enabled him to compose prolifically (including 13 Books of Masses) until his death. A five-part psalm for three choirs was sung at his funeral.
An interesting feature of this motet (3:49) is the long ascending octave line that is sung to the first sentence of the text. The motet is in 3 sections with Alleluias concluding each section.
"Christ our Lord ascends to heaven, he is in heaven, alleluia. He takes to heaven all those he captured, alleluia. Even rebels give gifts to him, alleluia." See Ps 68:18.